Web Page Optimization Examples
You don't have to pay for traffic.  You can see below with our Advanced Web Page Optimization Examples how employing our Advanced Web Page Optimization techniques can give you FREE website traffic and rankings.
There are many companies that are scamming naive website owners, promising that they can have their website listed at the top of the search engines for a really low price immediately. This is a flat out lie.  Your own common sense can tell you this isn't really true.  Go out and do a search on the internet.  Do you see the huge number of results that are listed.
For example, if I do a search on "widgets" on Google, there is 439,000,000.  That's millions of pages vying to be in the top ten listings for the term widgets.  What makes you think that you'll be able to pay pennies for the top ten listings of these millions of pages tomorrow for such a small amount? Clearly whoever is telling you this is just trying to get your money from your wallet in his own without giving you what you're paying for.
What's more…  you don't have to pay for traffic if you build the website correctly the way we're talking about.  Granted, it might take a little while to see results, but see results you will.  How long this will take will depend on how competitive the industry is and the search term that you're trying to rank for.  But there's no doubt that using proper web optimization techniques will affect your place in the search engines, such as Google, Yahoo, MSN, etc., which comprise 100% of searches performed on the internet in the United States. See the percentages of each below: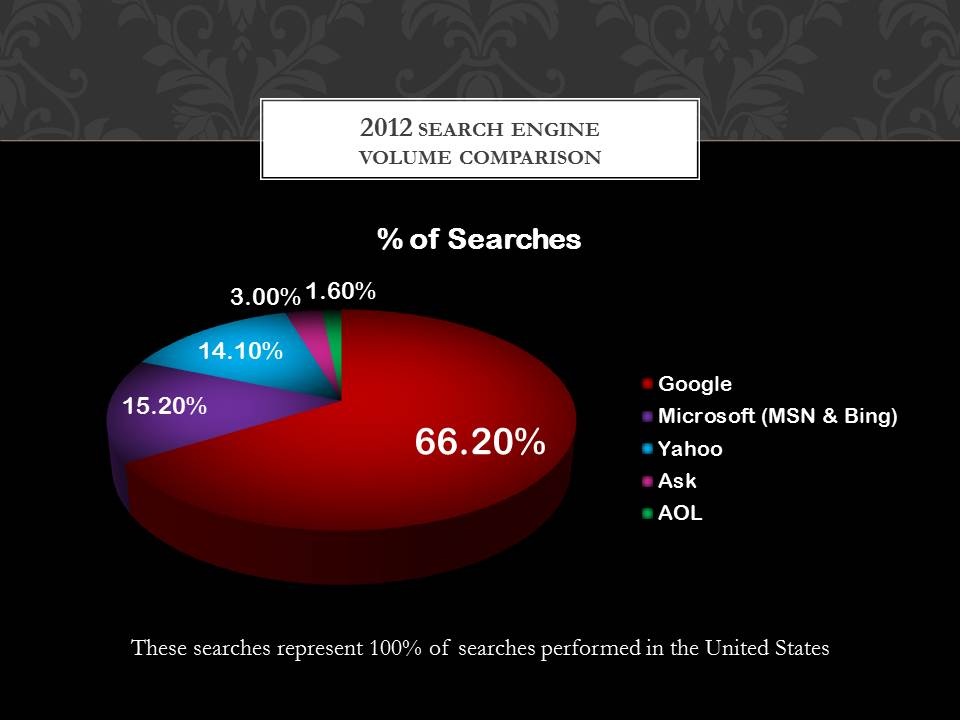 Here's some examples from just 3 of our clients that have implemented the strategy we're talking about. They have not paid one dime towards online advertising other than building their website with us.
Just click on the search engine term in these web page optimization examples and see the live search engine results for yourself:
These are just 3 web page optimization examples of companies that we have used our advanced web optimization techniques to improve their search engine visibility.These results were obtained in just a few short months.
You can have these results too for as little as $50 per month with our Website Maintenance Plus Package.
Let us help you!